National Leaders Conduct Visitation
Regional Chapter Features Peace Award, Plus
Reports on Formation, Youth, JPIC, Vision

The membership of the Bl. Kateri Tekakwitha Region pretty much remains constant at 464 Secular Franciscans, thanks to new professions offsetting 24 deaths, Regional Minister Mary Frances Charsky, SFO, reported at the Annual Regional Chapter, held April 24-26 at Stella Maris Retreat Center in Skaneateles, NY.
In addition, she said, there are 37 candidates and 21 inquirers in the process of discerning their Franciscan vocation.
The region consists of 32 fraternities -- soon to be 30 as two merge with other fraternities -- with local fraternity membership ranging from 5 to 44, or an average of 15 members, Charsky said.
Countering a declining trend, the number of spiritual assistants assigned to fraternities has jumped to 26, she noted. They include 15 friars, 6 sisters, 3 diocesan priests, and 2 Secular Franciscans.
Regional Treasurer Donna Roberti, SFO, gave the treasurer's report, which was unanimously accepted 26-0; and proposed a 2010 regional budget of $29,700, which keeps spending close to the 2009 budget. Ministers and delegates unanimously approved the 2010 budget, 26-0.
Noted Holy Family Fraternity Delegate Tutti Wagner, SFO: "I would like to commend the Executive Council for keeping spending in line in consideration of difficult economic times."
Regional Minister Charsky surprised Treasurer Roberti by presenting her with the 2009 Regional Franciscan Peace Award. She cited Roberti's work with her fraternity and the region, her work with the poor, and her efforts to provide a safe haven for her granddaughter.
Attendees broke into five small groups for rotating presentations on:
(1) Franciscan Action Network (FAN),
(2) pre-visitation forms and preparation,
(3) preparation for elections,
(4) Justice, Peace and Integrity of Creation (JPIC), and
(5) regional and national annual reports.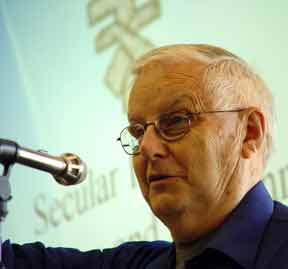 Spiritual Assistant Bill Geary, SFO, made a presentation on the Secular Franciscan vocation and the discernment process that takes place as inquirers and candidates journey toward profession. Quoting a presentation made at the General Chapter in Hungary, he said: "The church recognizes Secular Franciscans as belonging to a real order." He noted that discerning a vocation is a two-way street, involving both the fraternity and the candidate. He also offered a few tips on what to look for in a candidate who may have a vocation. (Click on his report at left to download.)
Rob Breen, SFO, gave an update on the region's Youth/Young Adult efforts, on JPIC, on FAN and Care for Creation (C4C), and on the Ad Hoc Panel's 11-point vision for the region. (Click on his reports at left to download.)
The gathering also included a Chapter of Visitation, conducted by National Minister Patrick Mendés, SFO, and National Spiritual Assistant Fr. Stephen Gross, OFM Conv.
During parting remarks Sunday morning, Mendés said he took note of the goals and vision the Regional Council set for for the region.
"I'm sure you'll reach your goals. You have commitment. You have vibrance. You have an outstanding Council."
He encouraged efforts to foster vocation awareness.
Noting the warm welcome that made him feel right at home, Mendés said:
"You're an excellent region. It's a joy to be with you."
Father Steve recommended that, as the Regional Council formulates plans to raise funds and make leadership training available, to make sure to include lay spiritual assistants in on-going education, to make funds available to further their education and certification.
He also encouraged fraternities to celebrate the 800th anniversary of the start of the Franciscan movement. Noting that a number of Franciscan men and woman, including Secular Franciscans, continue to be canonized as saints, he said: "The Franciscan movement continues to give us models. These are the people that God has given to us" to study.
The friar encouraged Secular Franciscans to allow their "lives to be challenged," to move out of their "comfort zones," and said:
"Get on with it. Don't be afraid to take the next step. Deepen that inner relationship with the Lord."