Filipino candle dancer (above) and flower dancers (below).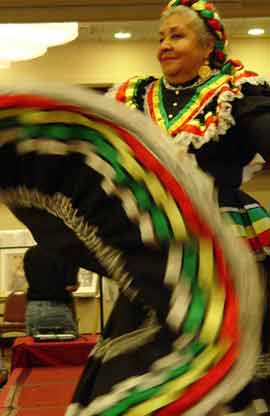 Mexican dancer.
PITTSBURGH, PA, July 6, 2007 -- Cultural Festival Part II took place Friday evening, July 6, with scenic, dance and musical splendor ranging from the Philippines and Vietnam to Mexico and Italy.
Like the previous evening, the second part of the Cultural Festival ended with a standing ovation, and this time with the audience joining in the singing of the Italian melody, "Mamma."
A Filipino skit incorporated dances performed by children aged 5 to 15. They included a dance with candles, the national dance of the Philippines, and a dance with flower wreaths. The children were part of the Filipino American Association of Pittsburgh.
Next came a presentation on the history and culture of Vietnam and the Vietnamese in America by Peter Nguyen, SFO. His wife, Lynn Tong, SFO, then sang a Vietnamese melody.

Lynn Tong, SFO, and Peter Nguyen, SFO.
Hispanic Secular Franciscans, led by Adelina Frisbee, SFO, danced and modeled attire from various regions of Mexico. The other performers were Matha Tenorio, SFO; Sofia Villarel, SFO; Lisa Sell, SFO; Maria Luisa Lachica, SFO; Soledad Bautista, SFO, and Maria Tenorio, SFO.
The evening was capped with the sights and sounds of Italy, as Carol Gentile, SFO, introduced:
-- Jean Villa Balleti-Glad, who spoke about growing up Italian and living in Italy;
-- Fr. Richard Trezza, OFM, who performed "Ritorna a Surriento" on the piano;
-- Anthony Stronach, who sang the Italian melody, Mamma, to his mother, Mary Stronach, SFO, who then proceeded to teach the words of the song to the audience.
The festival ended with the audience performing a rousing rendition of Mamma in Italian, led by Carol, Jean, Anthony, Fr. Richard and Mary.
The Cultural Festival was sponsored by the National Fraternity's Multicultural Committee, chaired by Sonia Bernardo, SFO.