BELOW: Some of the participants in the
spiritual assistant workshop.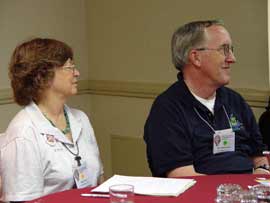 By BILL GEARY, SFO
My first thought was, "Will I fit in,? Will I feel out of place?"
That lasted for the first two minutes at the workshop track for spiritual assistants. It became immediately evident that there is a deep concern on the part of the First Order (and TOR) for the Seculars.
A quick "power analysis" showed the friars were very willing to listen, and they heard our call which has led to the lay spiritual assistant program.
The sessions have affirmed our role as spiritual assistants. Discussions were entered into on how to improve the training and selection process for spiritual assistants.
One of the problems discussed was how to get a lay spiritual assistant accepted, especially a woman, by a fraternity.
The open session on Friday was well-attended, and provided a thorough background on spiritual assistance to the Secular Franciscan Order, and the current training program for spiritual assistants.
One final thought – we are so closely related as to be one.
###
Fr. Kevin Queally, TOR,

(above)
and Fr. Lester
Bach, OFM Cap., were
presenters at the
spiritual assistant
workshop.