Melvin Varghese performs classical
dance of India.

Kay Francis, SFO, talks about India
and the Syro-Malabar Rite.

Paul Park, SFO, introduces Korean acts.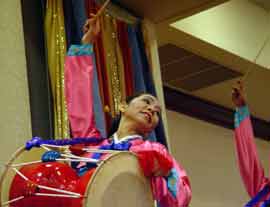 Korean drum dancer.
By BOB and MARY STRONACH, SFO

PITTSBURGH, PA, July 5, 2007 -- An evening Cultural Festival July 5 erupted into one rousing ovation after another, as Native Americans spoke of their spirituality and heritage, as a teenager performed a classical dance of India, and as Korean performers danced in a colorful choreography of music and movement. It was part of the multi-cultural-themed Quinquennial Congress.

Navajo Ruby Singer, SFO, & Osage Barbara Smith, SFO
In a narrative style that reflected the oral tradition of her people, Navajo/Pueblo Ruby Singer, SFO, offered a Native American prayer of healing so that we would be "in harmony with the Earth and its peoples."
" I understand the Great Spirit is with us tonight," she quipped, "for there were two rainbows outside."
Her people, she said, recognize that "life is a long journey of learning," and that "spirituality is the source and center of everything we are made out of." There's an "interconnection of energy among all living creatures, human, animals, plants, etc."
Making a connection between Native American spirituality and the Franciscan notion of God and the universal kinship of creation, she said: "Walking mindfully on the Earth can restore our peace and harmony, and it can restore the Earth's peace and harmony as well. We are children of the Earth. We rely on her for our happiness and she relies on us also. Whether the Earth is beautiful, fresh, green, or arid and parched depends on our way of walking. When we practice walking meditation beautifully, we massage the Earth with our feet and plant seeds of joy and happiness with each step. When we dance with bare feet, we touch our Mother Earth and we know that we are one with her. With our singing for everything we do, we were told that we pray twice. Our Mother will heal us and we will heal her."
Barbara Smith, SFO, a member of the Osage Nation, gave an overview of her tribe's history. Semi-nomadic buffalo-hunters, like other Plains tribes, the Osage were forced out of Missouri and Kansas, traveling the "Trail of Tears" to Oklahoma. She showed slides of artifacts, such as the baby moccasins she wore as an infant, peace pipes in her family's possession (a sign of honor and wealth), and Eagle feather head dressings handed down through the generations.
Next, 17-year-old Melvin Varghese of the Indian, Syro-Malabar Rite flitted across the stage, performing a classical Indian dance that emphasizes the use of eyes and hands, and fast foot movement, with, he said, "music intended to touch the soul." It touched the audience enough to give a standing ovation.
Then Kay Francis, SFO, offered a brief history of the Syro-Malabar Rite and some facts about India.
She was followed by Paul Park, SFO, who introduced a series of individual and group performers of Korean dance, music and song. They sparked one standing ovation after another.
The Cultural Festival was sponsored by the National Fraternity's Multicultural Committee, chaired by Sonia Bernardo, SFO.